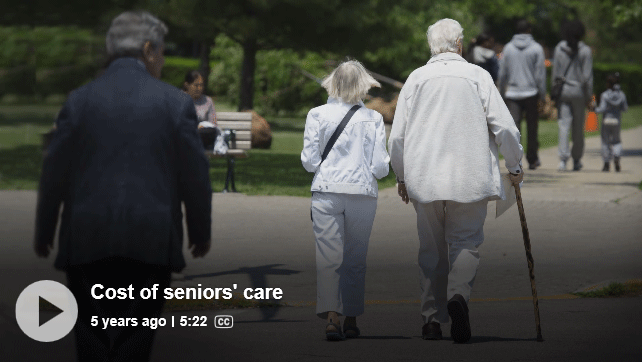 링크 :
https://www.cbc.ca/player/play/2678282042/
캐나다의 노인들 케어비용이 2026년도가 되면 2015년 기준비용에 2배로 늘어난다는 내용의 CBC 캐나다 공영방송 뉴스.
앞으로 더욱 많은 노인케어 간호조무 인력이 더욱 부족할것으로 예상.
Care costs for seniors forecast to more than double by 2026
Conference Board of Canada advises provinces to be innovative and more efficient
The number of Canadian seniors requiring continuing care will rise by 71 per cent by 2026 and that will likely mean the provinces will face escalating costs to care for vulnerable people, according to a report from the Conference Board of Canada.
The report suggests if the current level of continuing care is to be maintained, costs will rise from $28.3 billion in 2011 to $62.3 billion in 2026 and $177.3 billion in 2046.
•Health-care spending growth slows, but reaches $6,105 per Canadian
•Home care for elderly family members can't be done alone
•THE CURRENT: Geriatricians call for controversial change to health care for seniors
With provinces currently paying 66 per cent of the tab for support of seniors in their homes and in residential care, that could mean extreme spending constraints in the health-care sector.
Currently, the proportion of seniors needing support is about 29 per cent or 1.4 million people, mainly those in the vulnerable over-85 age group.
But as the baby boom generation ages, the number of people needing support could grow to 2.4 million in 2026 and 3.3 million in 2046.
Inadequate care already
That will place great pressure on volunteer caregivers and greatly boost the demand for labour in the continuing care sector, the report says. The number of people providing care would have to more than double to 11.6 million people by 2026 from 5.3 million in 2011.
"The tremendous growth in spending projected does not account for the perceived unmet and under-met needs of seniors that are significant and projected to worsen," the report says.
The study concludes it will be nearly impossible to maintain the status quo level of support for seniors, even though that level is frequently criticized as inadequate.
Instead, it will be necessary to find "more effective and sustainable approaches to managing the continuing care needs of seniors," the report said.
Louis Theriault, vice-president of public policy at the Conference Board, says there is a need for better design of care systems, including better incentives and better accountability.
"If we keep paying the way we do on the public side, we're talking about growth of 5.5 per cent a year for this component of health care. The whole economy is supposed to grow about 4.1 per cent. That is a gap that imposes some hard decisions on how we manage provincial budgets," he said in an interview with The Exchange.
Need to think ahead
The Conference Board recommends policymakers begin thinking ahead about the changes and begin innovating in the community care sector.
The report acknowledges that the way people spend their senior years may well change over the next 25 years.
Medical advances and an emphasis on wellness may mean people are healthier for longer. And new technology may lead to more innovative ways to monitor and support people in their homes.
"The unique takeaway of this report is the quantitative identification of pressure points, which can be used to help develop policies and make plans for investment, service delivery, labour supply and skills, and infrastructure over the coming decades," the report says.
A report from the Canadian Institute for Health Information released last week pointed out that the pace of health-care spending in Canada is slowing on a per capita basis. But private spending on health care is also on the rise.